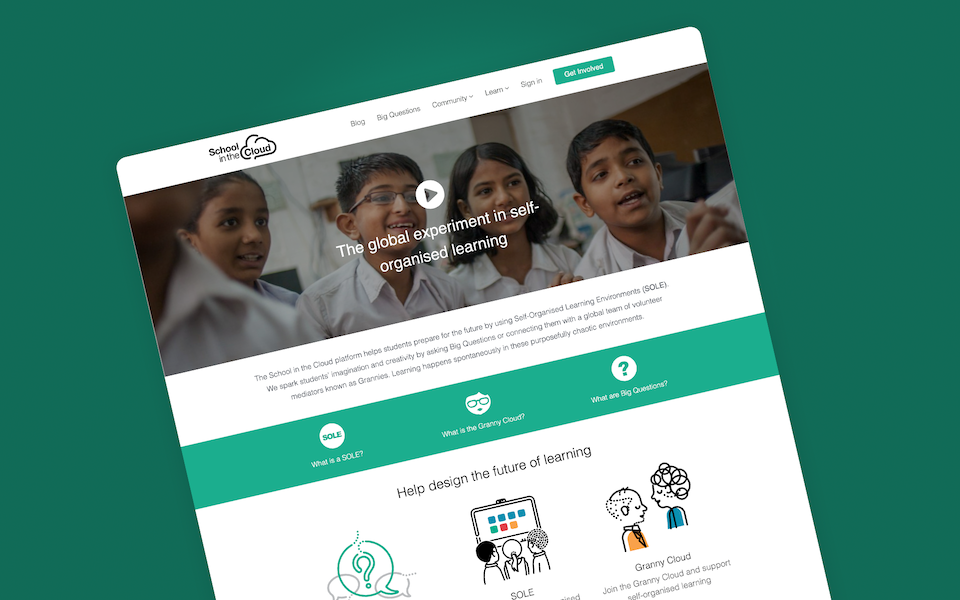 Introduction
The School in the Cloud platform was launched to help accelerate this research by helping educators — be they teachers, parents or community leaders — to run their own SOLEs and to contribute to the global experiment by sharing their experiences.
The platform was initially developed by the design company Made by Many and was launched at TED Vancouver in March 2014. In August 2014, the platform was handed over to SOLE Central, a new research centre at Newcastle University, directed by Sugata Mitra. The platform is currently being managed and developed in partnership with the Digital Interaction Group, Culture Lab, Newcastle University.
Background
In 1999, Sugata Mitra's pioneering "Hole in the Wall" experiments helped bring the potential of self-organized learning to the public's attention. Fourteen years of research since then continue to support his startling results — groups of children, with access to the Internet, can learn almost anything by themselves.
From the slums of India and villages of Cambodia, to schools in Chile, Argentina, Uruguay, the USA and United Kingdom, Professor Mitra's experimental results offer an intriguing new future for learning: a future in which 'knowing' may be obsolete.
His innovative and bold efforts towards advancing learning for children all over the world earned him the first ever one million dollar TED Prize award. At the 2013 TED conference, Sugata asked the global TED community to make his dream a reality by helping him build the ultimate School in the Cloud where children, no matter how rich or poor, can engage and connect with information and mentoring online.
In December 2013, the first School in the Cloud lab — located inside a high school in Killingworth, England — opened its doors to students. Six more labs have since been opened; five in India and one more in the UK. The labs aim to provide an environment in which we, as a global community of educators, can observe the impact of self-organized learning on children from a wide range of educational backgrounds.
What is a SOLE?
A Self-Organised Learning Environment, or SOLE, can exist anywhere there is a computer, Internet connection, and students who are ready to learn. Within a SOLE students are given the freedom to learn collaboratively using the internet. An educator poses a Big Question and students form small groups to find an answer.
During a SOLE session students are free to move around and share information or to change groups at any time; towards the end of a session they have the opportunity to share what they learned with the whole group. SOLE sessions are characterised by discovery, sharing, spontaneity and limited teacher intervention.
What is the Granny Cloud?
The Granny Cloud is a fluid team of e-mediators, young and old, both male and female. They reach out via Skype to children in SOLEs across the globe. Currently The Granny Cloud consists of 75 active Grannies. Their main role is to interact with groups of children in regular or one off sessions. This could involve stories, craft activities, songs, exploring the web together, quizzes and discussions.
The aim is to stimulate curiosity, to develop confidence and generally to have fun. It could also involve the posing of Big Questions with the children working in groups, using the web, developing search skills, talking amongst themselves and then feeding back to their Granny.
Taking its lead from Sugata's principles of self organisation, the Granny Cloud has developed many different roles within the group. It offers mutual support, mentors individual children, provides technical support, gathers data for research, explores fund-raising opportunities, promotes the project through the media and helps with the recruitment of new Grannies. The Grannies hail from many different locations across the world.
What are Big Questions?
Big Questions are the spark that ignites a SOLE session. Asking an interesting and relevant question is the thing that fires children's imaginations and curiosity. They are meant to inspire a child's imagination and encourage a genuine process of discovery. Developing a big question can also be the hardest part of running a SOLE session
Big Questions are the ones that don't have an easy answer. They are often open and difficult; they may even be unanswerable. The aim of them is to encourage deep and long conversations, rather than finding easy answers.
These questions encourage children to offer theories, work collaboratively, use reason and think critically. A good big question will connect more than one subject area: "What is an insect?" for instance, does not touch as many different subjects as "What would happen to Earth if all insects disappeared?".
Some questions are extensive, some precise, some light-hearted, and some poignant. They can tie in with what the children are learning at school, come from their everyday experiences, or be something completely new.
They should be things that encourage research, debate and critical thinking. Big questions aren't just about getting the 'right' answers, but about learning the methods and skills needed to find the answers.
Involvement
During my time at the Digital Interaction Group, Culture Lab, Newcastle University now known as Open Lab I worked closely with senior engineers to design the Big Questions interface.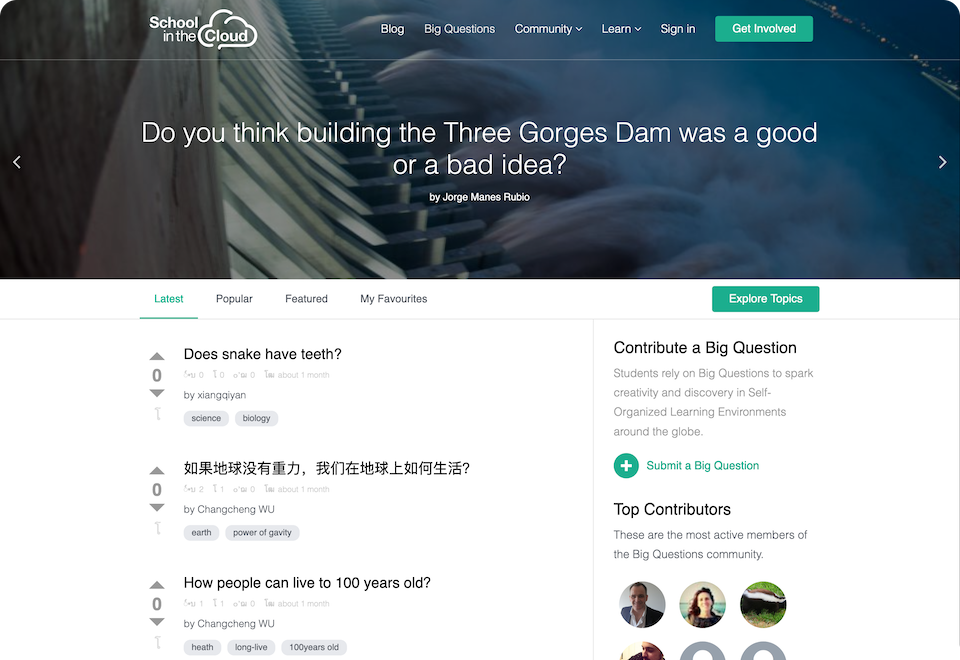 Read More
Sugata Mitra creates a School in the Cloud - TED