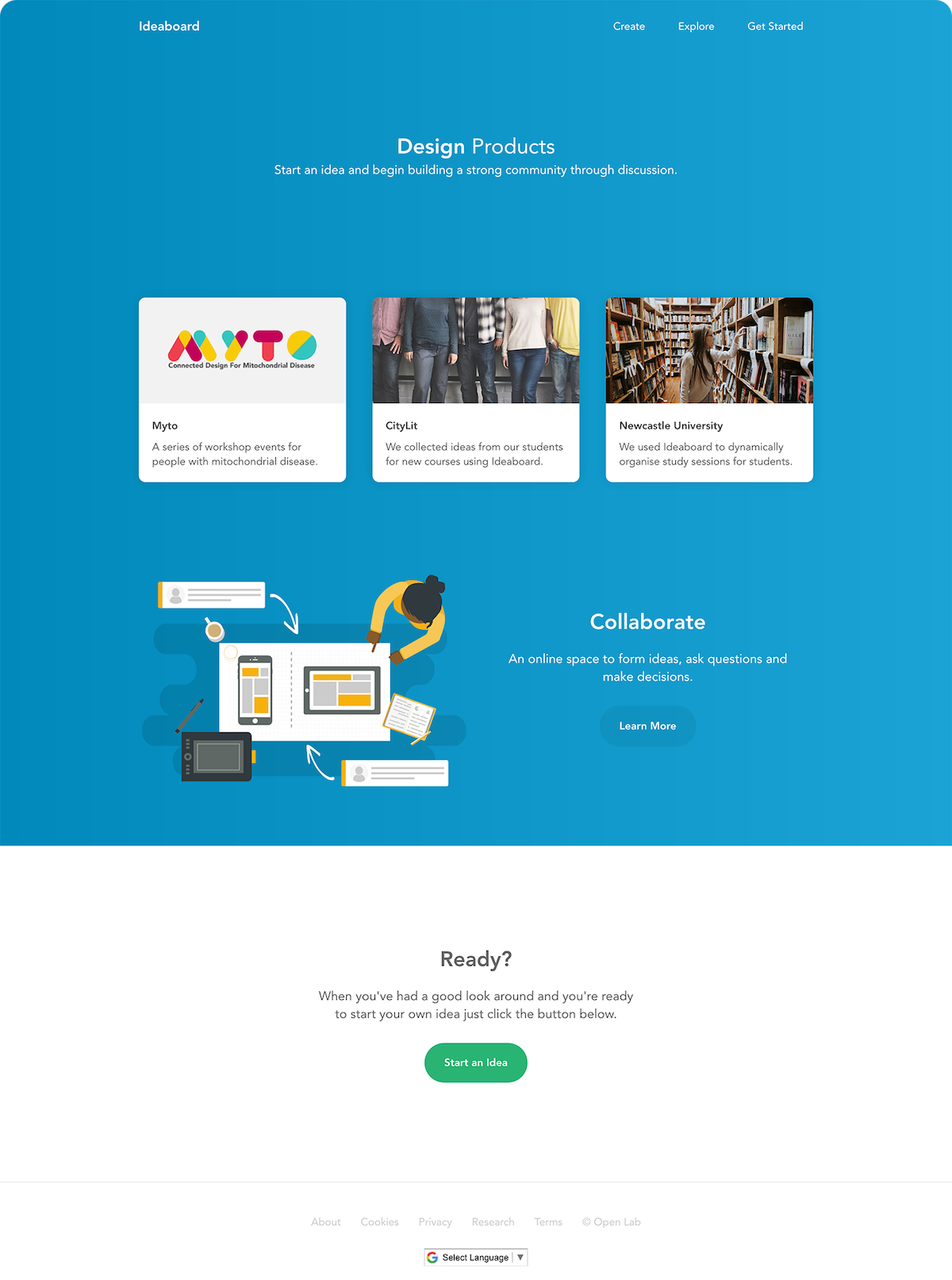 How it works
Ideaboard is a collaborative space to develop any project.
Want to involve students in the design of a course? How about planning your upcoming event with the help of attendees? Or do you simply want a place where your book club buddies can hang out, chat and plan meet-ups? Ideaboard does all this and more.
Getting started on Ideaboard is easy, with a few clicks you can launch an idea page and start inviting people to subscribe and collaborate.
Start the conversation straight away in the general discussion, then you and your community can add 'tasks' such as polls and discussions to help shape your idea.
You can post regular updates to keep everyone notified, and use our custom planning tools to organise your idea.
What makes Ideaboard different?
Unlike other platforms, Ideaboard is designed with community at its heart. We believe that any idea can be improved by including more passionate voices. That's why all our tools are open for everyone to use.
On Ideaboard, anyone who subscribes to your idea can ask questions, set polls and offer their expertise! So much better than a survey, this is genuine, real collaboration between you and your audience.
Who's used it?
MYTO - Connected Design For Mitochondrial Disease MYTO was a distributed, connected series of design events across Europe in March-April 2018 that brought people living with Mitochondrial Disease together with designers and researchers to create ideas that respond to their experiences of life with the condition.
SenseMyStreet SenseMyStreet is a toolkit developed in collaboration between Open Lab and the Urban Observatory at Newcastle University. Toolkit enables local people and communities to commission sensors and locate them on their streets, collecting evidence to inform or even change their communities. For the first time, the public has access to precision sensing equipment to enable them to gather data, that is relevant to their local issues.
Links